Instant Demo
For an instant demo of Continuity, download the pre-configured client (below) and connect to our
demo server.
Installation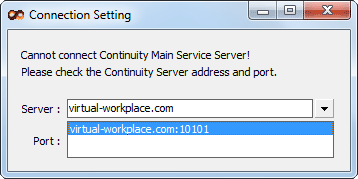 Install the Continuity client in a directory of your choice.
Launch the client which will pop-up the server 'Connection Setting' dialogue (see image) - this dialogue can also be found in the Lobby menu - see Tools/Options/Connect.
Select the pre-defined 'virtual-workplace.com' server. Once your press 'OK' you are ready to connect to our demo server.
For logon accounts see the 'Example Company' below.
Example Company
The demo server features an 'Example Company' with several staff-accounts.
Each staff has a different position that defines their access to the company's data stored in Continuity.
Position
Administrator
Executive
Manager
Designer
Designer
Access
Full
Full
Wide
Limited
Limited
Login
AdminA
ExecA
ManagerA
DesignerA
DesignerB
Password
AdminA
ExecA
ManagerA
DesignerA
DesignerB
If you have any problems or require help then please Contact Our Support

Please Note: Every full hour, the demo server will be stopped, reset and all content refreshed.
Free 8-User Version
To use Continuity for free go to our Download Page

Copyright 2006-2023 Virtual Workplace Limited