Highlights
Instant Demo: Try Continuity right now - go to the Try Now! Page

Free 8-User Version: Get your own free version of Continuity - go to the Download Page

Movies: Watch our Continuity movies - go to the Continuity Movies Section

User Seats: Additional Continuity user sets can be purchased using PayPal - go to the Buy Page

Virtual Workplace
We here at Virtual Workplace create new, innovative solutions which enable small and medium sized businesses to harness the power of the intra- and Internet.
Our principal product is 'Continuity' made in cooperation with game developer Binary Star ltd

Continuity
Continuity is a breakthrough in collaborative project management 2.0 software, fusing the best of social networks and business applications - allowing every organization to have their own professional online community.
Continuity combines task tracking, scheduling, spreadsheets, word processing, on-screen notes, file exchange, information exchange - wikis/news/memorandums, and instant messaging.
Secure
Continuity provides a secure, single point of exchange for all work related activity, protected by its powerful permission system.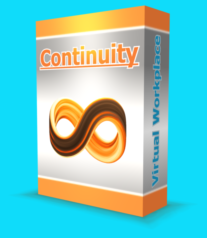 Cost-Saving
Continuity saves costs - creates a flat company structure and a lean production - by enabling the management team to directly track and supervise staff in real-time, establishing absolute clarity of what is required and by when.
Scalable - Fast - Adaptable
Continuity is scalable and fast, easy to set up and maintain, and adapts to any business process.
Transparent & Unified Company
Continuity enables the management and staff to fully collaborate - access and share all information in real-time - creating a unified, transparent company.
Home Or Office - Outsourcing & Freelancing Ready
Continuity provides all services staff require, enabling temporary or permanent staff to work from home or office - transparent to management or co-workers.
Professionals are very impressed with Continuity - like former Electronic Arts and THQ Senior Producer Derek Proud:
"Continuity is an online communication, asset management and project tracking tool that is unlike anything I've seen before. It lies at the core of Binary Star's game design process and is a combination of Microsoft Project, Perforce, a file transfer tool, a chat program, an art pipeline approval process and much more."
Movies
Watch the following movies to experience this easy-to-use and powerful system in action:
Continuity Feature Tour
High Resolution WMV
Example Company

Game Production Case Example

High Resolution WMV

High Resolution WMV
Copyright 2006-2023 Virtual Workplace Limited